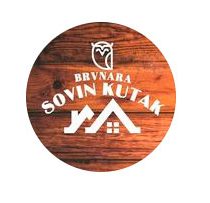 Dodatni detalji
CENOVNIK SMEŠTAJA - ZA DO 4 OSOBE:

---------------------

5 NOĆENJA i VIŠE:

30€ DAN

3-4 NOĆI:

35€ DAN

2 NOĆI:

40€ DAN

ZA VIŠE OD 4 OSOBE:

CENA SE UVEĆAVA 25%.

BRVNARA SE NE IZDAJE NA JEDNU NOĆ:

---------------------
Description
The "Sovin Kutak Log Cabin" is located in Tara National Park, in the beautiful village of Rastište, just 6 km away from Perućac Lake and the stunning Derventa River Canyon. There are numerous viewpoints and walking trails nearby. Banjska Stena viewpoint is 14 km away, Sjenič viewpoint is 7 km away, and Bilješka Stena is 12 km away. Check out the location on Google Maps.
Built in 2023, our log cabin is made of white pine, providing excellent insulation and very healthy air for your stay. The accommodation consists of one bedroom with three beds, as well as two additional beds in the living room. It is ideal for 4 people, but can accommodate up to 6 guests.
Enjoy the covered terrace and gazebo in the yard, where you can spend relaxing moments in nature. Heating is wood-fired, and free WiFi internet is available. For our youngest guests, the yard offers a children's playhouse, a swing, and various outdoor play equipment, such as bicycles, sleds, balls, badminton rackets, frisbees, and a boomerang.
What sets our log cabin apart from others is the peace and quiet you are surrounded by, friendly hosts, beautiful walking trails, forests, meadows, and very clean air. Visit us and experience an unforgettable stay in the heart of the pristine nature of Tara National Park!