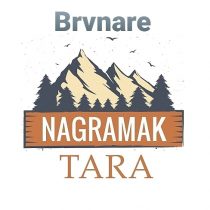 Dodatni detalji
CENOVNIK -NAPOMENA:

Cena zavisi od broja osoba, perioda i dužine boravka. Za praznike cene su uvećane.
Description
NAGRAMAK log cabins are located in Sekulići in Zaovine, decorated in a mountain style with beautiful terraces and the nature that surrounds them. Mitrovac and Zaovine lake is 5 kilometers away. Location on Google Maps
We have 4 log cabins.
Each log cabin has a living room, kitchen and bathroom on the ground floor. There are two rooms upstairs. One is a triple and one with a double bed and another bed. In front of the log cabin is a large terrace. Everything is fully equipped. In the living room there is a TV set with a satellite package of Polaris channels. The maximum capacity of the log cabin is 8 people. Free Wi-Fi is available in all chalets.
Log cabin 1 – Interior
Log cabin 2 – Interior
Log cabin 3 – Interior
Summer house with barbecue